There's a lot going on in this story, and I'm playing around with some of it. And ZOMG, I'm committed to something! #OpenSim #SecondLife
OpenSim land area continued to increase gaining a total of 3,400 standard region equivalents this month — after gaining more than 9,000 regions last month. The number of active users also increased by 1,300.
Source: OpenSim land rally continues –
I'm running one of these little mini-grids:
These stats do not include most of the mini-grids running on the DreamWorld distribution of OpenSim, or private company or school grids. DreamWorld has counted more than 8,483 mini-grids created with this installer alone so far.
Currently, I'm remixing content from various OARS loaded up on my 4 1×1 regions and 1 4×4 region. I keep getting distracted by the compulsion to sort my inventory into a more efficient structure, then go off hunting good quality free content and messing it up again.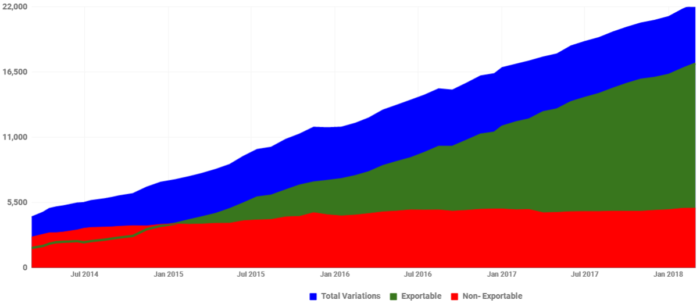 Kitely exportables continue to rise

There are currently 11,566 product listings in Kitely Market containing 22,261 product variations, of which 17,218 are exportable.

Kitely Market has delivered items to 257 OpenSim grids to date.
Also, with Kitely Market, there's the ability to "shop from home" and buy items for either USD or their currency, KC. And it's very easy to list items for sale there, so I'm also mulling over whether to offer the best of my hats and things in mesh for OS.
I succeeded in getting a login for Kitely and also in connecting to their market and getting a delivery (bought some very nice mesh hair). It seems nice there but it was empty at the time.
I currently don't have Gloebits enabled as my "dreamworldz" is only open when I'm logged in. If my dear in-house geek puts a server together for me for a "dreamgridz" version (slightly different version of the Outworldz OpenSim version created by Ferd Frederix, I'd have an instance that's up 24/7, but don't have the content (or the time) to justify running it. However, Kitely has options and their "worlds" aren't running unless someone needs to log in to them, and then the server spins up. It was interesting moving around there shopping and exploring (sorry, no pictures). Likely won't go for Gloebits but depends on other factors.
AviWorlds: Nothing to say here other than "new week, new announcement from Aviworlds reversing a previous announcement." I feel bad for Maria Korolov having to keep track of this; her site is pretty essential for Open Sim technical and business news, so she has to report it, but what a pain.
Hypergrid International Expo postponed

The Hypegrid International Expo has been postponed to September 29 and 30 due to technical issues. The issues leading to its postponement include space and to facilitate some of the speakers for the event.

The change will make it less stressful for participants.
Hmm! I may contact +ThirzaEmber later on this and see about participating. I love what she and others do at Hypergrid Safari (and she offers up some really nice free clothing and things).
And this is the big thing… and only JUST NOW did I notice that I'm mentioned!!
Fashion Expo at TangleGrid will showcase Ruth 2.0
The open source Ruth 2.0 avatar will be showcased at the upcoming Avatar Fashion & Accessories Expo, which runs from April 2 to April 30 in Tangle grid's Expo Isle region.

It will be an opportunity to spotlight all the hard work and innovation put into the project so far, organizers say.

Shin Ingen, a developer for the avatar, is also working on a male avatar version of the Roth, but it is uncertain if Roth will be ready for presentation by April.

"The developer team and many others who are creating items for Ruth are happy to have a Ruth showcase at Expo, so we have dedicated half the area to Ruth and have invited people from around the metaverse to create an NPC of their Ruth-avatar in a themed area," Tangle Grid spokesperson Elbereth Elentari told Hypergrid Business. "Ada Radius, Bink Draconia, Lelani Carver, Rosa Alekseev and Chris Nam are all involved."

Themed areas include vampire, fantasy, and steampunk, she added.

All OpenSim hypergridders, residents, designers and creators of clothing fashion and accessories are also invited to showcase their avatar fashion and accessories items. It is free to exhibit. Exhibitors can pick out a stand at the site where they will place their items — either free or for sale — as they await for the event opening. You can contact lesliekling@tanglegrid.com or elbereth.elentari1@gmail.com if willing to exhibit.

"Naturally, Tangle Grid will also be sponsoring the increasingly popular Expo Picture Contest with fashion as its theme," she said. "Everyone is welcome to enter a photo and the person whose picture gets the most votes by the end of Expo will win their very own region for three months, including 15,000 prims.
The hypergrid address is tanglegrid.net:8002:EXPO Isle."
I'm flabbergasted! I didn't even notice this when I saw it in my newsfeed the other day. +ElberethElentari contacted my on my profile picture page and asked if I'd be interested, as I'd also posted some pictures of my OpenSim self in some steampunk-themed attire I found
So I've been checking the licensing on some of my favorite SL texture to get a special hat ready for this event, and to my great delight, my most "go-to" texture maker has a generous usage license – ok to use on SL or any other world. Thank you, Texture Junction!
I'll have to get a style and credits card together. I'm currently pulling things from different outfits in OS and last night I downloaded my permissions-OK for OS textures that would work with what I have in mind for the display and the new hat. Ideas coming too fast to get down; I may try my hand at an armored skirt before we're done.
Holy CRAP, I'm committed. I just hope RL doesn't intervene: my meatself is in a choir and we have heavy commitments the week before Easter, and the weekend jammed up except for maybe a bit of time Saturday morning 31MAR. But I'll be up singing that night until 1030pm, singing the next morning, and likely wiped out in the afternoon (and even more likely, a family event will pop up on the calendar, too). So I'm going against all my instincts and working on it this weekend.
Also, somehow I have to figure out this "NPC non-player character" thing and provide a copy of my mesh avatar (some kind of appearance/animation recorder) wearing the outfit and the Ruth 2.0 getup, posing and gesturing with a Big Damn Steampunk Gun or a sword. I have ideas about that, too.
This outfit is for running around: it's Hyacinth Landry's experimental clothing applier for Ruth 2.0, available from her OS shop on HGLuv.grid or (temporarily) from her shop in the UUtopia region of Second Life at the Open Sim Welcome Center. She has a beta RC2 copy of Ruth 2.0 available. I have to get over to the event site and see what kind of space I have to work with.